PTC's Annual Conference is a strategic springboard for the global communications industry, providing all attendees with a four-day platform to focus on planning, networking, and discovering what lies ahead for the ICT industry. Start the new year off right and join us in Honolulu, Hawaii for the Pacific Rim's premier telecommunications event, PTC'23.
Call For Participation
The Call for Participation is now closed. If you missed the deadline and are interested in submitting a proposal for a speaking opportunity at PTC'23, please email 
speaker23@ptc.org
 to request the late proposal submission form.
2023 PTC Emerging Scholar Program
Interested in the opportunity to present your research at PTC'23? Submit an application for the program. Find out who's eligible and how to apply. The deadline is 5 August 2022.
PTC Research Award
Recognizing excellence in research, the Meheroo Jussawalla Research Award is awarded to the best participant research paper at PTC'23.
PTC'23 Attracted Senior Executives
Note: C-Suite category includes Chairman, President, CEO, COO, CFO, CTO & CIO
Nations Represented at PTC'23
Percentage based on conference registrants from each country
PTC'23 Attendees by Interest
PTC'23 Attendees by Industry
Percentage based on conference registrants from each industry
15–18 JANUARY 2023
HONOLULU, HI
Pacific Telecommunications Council's Annual Conference will take place at the
Hilton Hawaiian Village® Waikiki Beach Resort in Honolulu, Hawaii.
Hilton Hawaiian Village® Waikiki Beach Resort
2005 Kalia Road
Honolulu, HI 96815-1999
USA
Phone: +1.808.949.4321
Fax: +1.808.947.7898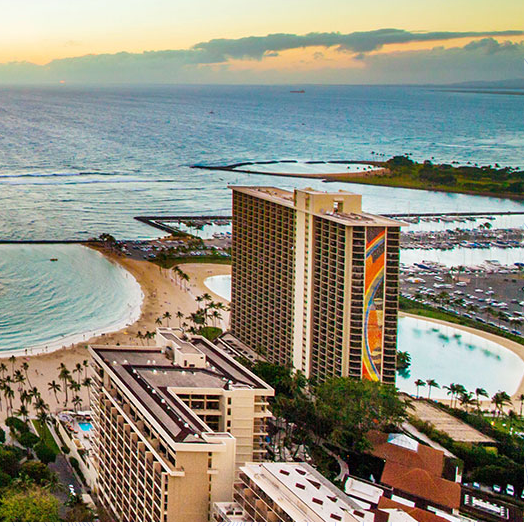 26FIVE
3Red8
AARNet Pty. Ltd.
AirTrunk
Allstream
Allstream Business Inc.
Altibox
Altibox Carrier
Amazon Web Service Japan
Amazon Web Services (AWS)
American Samoa Telecommunications Authority
AMS-IX
Angola Cables, SA
APNIC
APSCC
APTelecom
Aqua Comms
ASTCA
AT TOKYO Corporation
AT&T
AtlasEdge Data Centres
Avaroa Cable Ltd
AWS
BB Backbone Corp.
BCE Global – USA, A Bell Canada Company
BDx
Bharti Airtel Limited
Bharti International Singapore Pte Ltd
Bluesky Communications
Bulk Data Centers AS
Bulk Infrastructure Group
C3ntro Telecom
Canadian Radio-television and Telecommunications Commission
Capital [b] – HyperOne
Cascadia GateWay Inc.
CBRE
Chayora Holdings Limited
China Mobile International (UK) Limited
China Mobile International Limited
China Telecom
Ciena
Citadel Holdings
Citadel Pacific
CITIC Telecom CPC
Cloudflare
CMS Hasche Sigle PG RAe StB MbB
CNMI Department of Finance – Office of Information Technology
Cocoa Oriental Network Limited
Codecom
Colt Data Centre Services
Colt Technology Services
Communications Day
Communications Regulatory Commission of Mongolia
Compass Datacenters
COMSYS LLP
Console Connect
Console Connect By PCCW Global
Cornerstone Capital Partners
Croix Co. Ltd.
CRS
CRTC
CtrlS & Cloud4C
Cushman & Wakefield
Data Center Expertise
DataQube Global
DC Byte Ltd
DCI
DCI Brookfield
De La Salle University
DE-CIX Management GmbH
Desarrollo Pais
Digital Realty
Disruptive Analysis
Docomo Pacific Inc.
Dreamline Corporation
Easy Fibre
Echelon Data Centres
Edge Centres
Emirates Telecommunications Corporation – Etisalat
Encore Networks
Epsilon
Equinix
Equinix India Pvt Ltd
Equinix Portugal
EStruxture
EStruxture Data Centers
Eurofiber
Expereo
Fastly
Fiber Sense Pty Ltd
Ficolo
Flexoptix GmbH
GapSat
GHD
Global Marine
GLP Japan Inc.
Goldman Sachs
Government of Canada
Griebel Aerospace Consulting
GS E&C (DC Bridge)
GTT
Hankuk University of Foreign Studies
Haud
Hawaiki Submarine Cable
Hibbard Consulting Pty Ltd
HKCOLO Limited
HMN Technologies
HOT TELECOM
IG Networks
Impact Data Solutions Ltd
Infinera Corporation
Inforsec
Intelsat Corporation
Internet Multifeed Co.
Internexa
Interxion
Iristel Inc.
Iron Mountain Data Centers
ITU
ITUAJ
Japan Internet Exchange Co., Ltd (JPIX)
JPIX
JPNAP
Kawikani GmbH & Co KG
KDDI / TELEHOUSE
KevlinX
KINX Inc.
KIO Networks
Knight Frank
Kore International Limited
KPMG Asia Pacific
KT
KT SAT
KUROCO Co. Ltd.
Lanck Telecom
LARUS Limited
Leading Edge Data Centres
Lightstorm Telecom
LINX
London Internet Exchange
Lumea
Macquarie Data Centres
Marcatel
McCann Consulting International
McKay Brothers
MCS Advisory LLC
Megaport (Australia) Pty Ltd.
Ministry of Internal Affairs and Communications (MIC)
Mitto AG
MS Consulting Tahiti
NBG
NBG Fiber Optic Corporation
NBG Fiber Optics
NBG Group
NBG Systems GmbH
Net Connect Group
Netflix
Netnod AB
Neustar (a TransUnion Company)
NEXTDC Limited
NextHop
N-Hop Technologies Limited
Nobel
Nokia
Nokia Canada
NSR
NTT DOCOMO Inc.
ODATA
OMS Group Sdn Bhd
OneWeb
Onion Technology
Orange
Orange International Carriers
Orient Link Limited
ORTHO Corporation
OTEGLOBE S.A.
Palladium Partners
Parcus Group
PEACE Cable International Network Co.,Ltd.
PGIM Real Estate Japan
Pioneer Consulting
PointOne Development Corp
Princeton Digital Group
PT Telekomunikasi Indonesia International (Telin)
PTC Japan
PTI Pacifica, Inc. dba IT&E
QXTEL LTD.
Rabbit and Lion Pty Ltd
Rack Centre / Colo West
Rack Centre Limited
Retelit
RISE
Rise Asia Technology Ltd.
Scala Data Centers
Seaborn Networks
Shaw
Shaw Business
SHIFT, School of Information Science and Technology, ShanghaiTech University
Silk Road Telecommunications
SK Holdings
Solomon Islands Submarine Cable Company
Southern Cross Cable Network
Southwest Jiaotong University
Spencer Building Carrier Hotel
Start Campus
SUB.CO
SubOptic
Subspace
Summa Networks
SUNeVision Holdings Ltd.
Superloop
Swinburne University of Technology
Sync & Secure Technologies
Takasaki University of Commerce
Telekom Malaysia Berhad (TM)
TeleTok
Telia Carrier
Telserv
Telstra
Telxius
The Foundation for MultiMedia Communications (FMMC)
The Tech Capital
T-Mobile USA
TNZI New Zealand Ltd
Towngas Telecommunications Fixed Network Ltd.
Transtelco
Turbidite
UNED
Universidad de La Sabana
University of Alberta
University of Cape Town
University of Oxford
UPIX Networks
Urbacon Data Centres
Utech Global
Vantage Data Centers
Virtually Human
VIRTUS Data Centres
Vocus Communications
Vodafone Cook Islands
Workonline Communications
Yondr
Yotta Infrastructure