PTC'18
21–24 JANUARY 2018 
HONOLULU, HI
PTC'18 celebrated the 40th Anniversary of PTC's annual conference, opening a new decade of connections. Over 7,600+ members and industry attendees joined together in Honolulu, Hawaii from 21-24 January 2018 to share and explore the critical transformational shifts of the next four years, and the next forty years.
40th ANNIVERSARY
OPENING CELEBRATION
Sunday, 21 January 2018 | 19.00 to 21.30
40 years. 40 CEOs. 40 reasons to celebrate. An evening of high-tech entertainment.
PTC'18 INNOVATION
AWARDS GALA
Tuesday, 23 January 2018 | 18.30 to 21.30
A celebration of leadership. Inaugural, exclusive, and the best of our industry.
PTC'18 Call For Participation
The PTC'18 CFP is due to go out soon. Want to be added to the distribution list and opt-in to receive updates? Please fill out the form below.
0
+
NEW CONNECTIONS AT PTC'18
PTC'18 Attracted Senior Executives
Note: C-Suite category includes Chairman, President, CEO, COO, CFO, CTO & CIO
PTC'18 Attendees by Primary Interest
Nations Represented at PTC'18
PTC'18 Attendees by Industry
21–24 JANUARY 2018
HONOLULU, HI
Pacific Telecommunications Council's 40th Annual Conference took place at the Hilton Hawaiian Village® Waikiki Beach Resort in Honolulu, Hawaii.
Hilton Hawaiian Village® Waikiki Beach Resort
2005 Kalia Road
Honolulu, HI 96815-1999
USA
Phone: +1.808.949.4321
Fax: +1.808.947.7898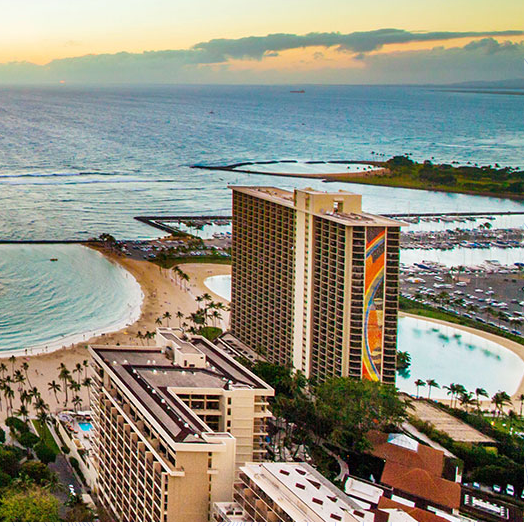 PLATINUM SPONSORS
GOLD SPONSORS
SILVER SPONSORS
BRONZE SPONSORS
ADVA Optical Networking
Akamai Technologies
Amazon
Apple
APTelecom
Aqua Comms
Arianespace
Asian Development Bank
AsiaSat
AT&T
Axiata
Bank Street Group
Bankai
BCE Nexxia
Bharti Airtel
BICS
Biznet Networks
Blue Origin
Boeing Satellite Systems
BT (British Telecom)
CBRE
CenturyLink
China Mobile
China Telecom
China Unicom
ChinaCache
Chunghwa Telecom
Ciena
Cisco Systems
CITIC Telecom CPC
Cloudflare
Cogent Communications
Colt Technology Services
Comcast Technology Solutions
Compass Datacenters
Competitive Telecoms Group
CoreSite
Coriant
Cowen and Company
Cox Business
Crown Castle Fiber
Cushman & Wakefield
CyrusOne
DE-CIX
Defense Information Services Agency (DISA)
Digicel Group
Digital Realty Trust
Dr. Peng Telecom & Media Group
Dropbox
du
Dynamic Spectrum Alliance
eBay
EdgeConneX
Equinix
Ericsson (Apcera)
Etisalat
euNetworks
Eutelsat
EXFO
F5 Networks
Facebook
Fortress Investment Group
Fujitsu Network Communications
Global Cloud Xchange
Global Switch
Globe Telecom
GlobeNet
Goldman Sachs
Google
GTT Communications
Harris Corporation
Hawaiian Telcom
Hawaiki Submarine Cable
Hostway
Huawei Technologies
IBM
IEEE
Infinera
Inmarsat
Instituto Costarricense de Electricidad (ICE)
Inteliquent
International Finance Corporation (IFC)
Internexa
Interoute Communications
Interxion
Iristel
Juniper Networks
Kacific Broadband Satellites
KDDI
Korea Telecom (KT)
Korea University
Leidos
LG Uplus
LinkedIn
Liquid Telecom
Loxley Public Company Limited
M1 Limited
Massachusetts Institute of Technology (MIT)
Megaport
Microsoft
Ministry of Internal Affairs and Communications (MIC)
Mongolia Telecom Company
Multinet Pakistan
National Telecommunications Regulatory Authority (NTRA) of Egypt
Natixis
NEC Corporation
Netflix
Neustar
Neutrona Networks
NEXTDC
NJFX
Nokia Networks
NTT Communications
NxtVn
Omantel
Optus
Oracle
Orange
Orbital ATK
OTEGLOBE
Pacific Islands Telecommunications Association (PITA)
PacketFabric
Paul Hastings LLP
PCCW Global
Penn State University
Pepperdine University
Peraton Corporation
Permira Advisers
PiRRC
PLDT
QTS
RBC Capital Markets
Red Hat
REDCOM
Rogers Communications
Seaborn Networks
ServiceNow
SES
SoftBank
Sony Interactive Entertainment
Southern Cross Cable Network
Space Systems/Loral
Spark New Zealand
Spectrum Enterprise
Speedcast
Sri Lanka Telecom PLC
StarHub
Stonepeak Infrastructure Partners
Stream Data Centers
SubOptic
SubTel Forum
SUNeVision
Super Sea Cable Networks (SEAX)
Superloop
Tata Communications
Telecom Egypt
Telecom Review North America
Telefonica
TeleGeography
Telehouse (KDDI)
Telekom Malaysia
Telenor Global Services
Telia Carrier
Teliax, Inc.
Telkom Indonesia (Telin)
Telstra
Telus
Telxius
Tencent
Teraco Data Environments
Thales Alenia Space
The University of Tokyo
TierPoint
TIME dotCom
TNZI
TPG Telecom
Turk Telekom International
Twilio
Twitch Interactive
UFINET
University of Auckland
University of Guam
University of Hawaii
University of Southern California
University of the South Pacific
Verizon
Versa Networks
Vertiv
Viasat
Viettel Group
VNPT International
Vocus Communications
Vodafone
Windstream
Zayo
Zenlayer
PTC'18 Call For Participation (CFP)
THE PTC'18 CALL FOR PARTICIPATION (CFP) IS NOW CLOSED TO ALL GENERAL AND ACADEMIC PROPOSALS.
PTC is accepting applications for the Yale M. Braunstein Student Prize Award through 1 September 2017.
Applications are now being accepted for PTC's 2018 YSP. The application deadline is 1 September 2017.