PTC'19
FROM PIPES TO PLATFORMS
20–23 JANUARY 2019
HONOLULU, HI
PTC's annual conference is the Pacific Rim's premier telecommunications event. The Conference is a strategic springboard for the global communications industry, providing all attendees with a three-day platform to focus on planning, networking, and discovering what the new year will bring.
PTC'19
FROM PIPES TO PLATFORMS
20–23 JANUARY 2019
HONOLULU, HI
PTC's annual conference is the Pacific Rim's premier telecommunications event. The Conference is a strategic springboard for the global communications industry, providing all attendees with a three-day platform to focus on planning, networking, and discovering what the new year will bring.
PTC'19 Call For Participation
The Call for Participation for PTC'19: From Pipes to Platforms is now open.
Become A PTC'19 Sponsor
Strengthen your company profile, visibility, and positioning across the global telecommunications industry.
PTC'19 Attendee Statistics
PTC'19 Attracted Senior Executives
Note: C-Suite category includes Chairman, President, CEO, COO, CFO, CTO & CIO
PTC'19 Attendees by Industry
Percentage based on registered attendees from each industry
PTC'19 Attendees by Interest
Nations Represented at PTC'19
Percentage based on registered attendees from each country
PTC'19 Attracted Senior Executives
Note: C-Suite category includes Chairman, President, CEO, COO, CFO, CTO & CIO
PTC'19 Attendees by Interest
PTC'19 Attendees by Industry
Percentage based on conference registrants from each industry
Nations Represented at PTC'19
Percentage based on conference registrants from each country
Call for Submissions
Submissions are now open for the second annual PTC Innovation Awards, which recognizes the individuals and companies that have transformed and continue to transform the ICT industry and the markets PTC serves.
Call for Judges
Join PTC in recognizing the emerging leaders in the ICT industry by serving as a judge for the PTC Innovation Awards.
2019 PTC Innovation Awards
INNOVATION AWARDS GALA
PTC's signature fundraising event, honoring the individuals and ideas that are moving the needle forward in the way of innovation. Join us for an elegant evening of local Hawaiian entertainment, delectable cocktails and cuisine, networking, and celebration.
INNOVATION AWARDS SHORTLIST
Pacific Telecommunications Council is pleased to announce the 2019 PTC Innovation Awards shortlist. Congratulations to our finalists and mahalo to the independent panel of judges.
PTC'19 Call For Participation
The PTC'19 CFP will be released in the near future. Want to be added to the distribution list and opt-in to receive updates? Please fill out the form below.
BECOME A SPONSOR
Interested in opportunities to grow your business, expand your brand, or build relationships?
Email sponsors@ptc.org.
PTC'18 In Numbers
0
+
CONFERENCE PARTICIPANTS
0
+
NEW CONNECTIONS AT PTC'17
20–23 JANUARY 2019
HONOLULU, HI
Pacific Telecommunications Council's Annual Conference will take place at the Hilton Hawaiian Village® Waikiki Beach Resort in Honolulu, Hawaii.
Hilton Hawaiian Village® Waikiki Beach Resort
2005 Kalia Road
Honolulu, HI 96815-1999
USA
Phone: +1.808.949.4321
Fax: +1.808.947.7898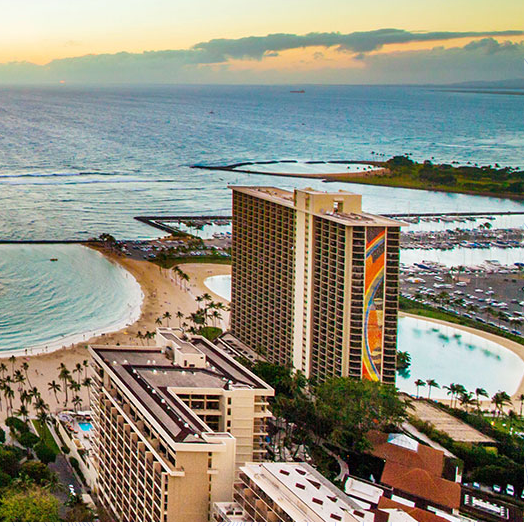 GOLD SPONSORS
BRONZE SPONSORS
1025Connect, LLC
10x People
1558 Realty
1stPoint Communications
223 Communications
26FIVE Global Lab
3C Systems Company
3G Telekom LTD
3i Infrastructure
462 Research
46Labs
6connect
7K Consulting, LLC
89Degree Networks, LLC
8×19
910telecom
AARNet Pty. Ltd.
ABB
ABS Global Ltd.
ACA International LLC
Acacia Communications Inc
Activatel AG
Adani
Addrex, Inc.
ADTRAN
ADVA Optical Networking
Advantage 360 Software
Advocate Management Partners LLC
AECOM
AFL Global
AINEO Networks
AireSpring
AirTrunk
Akamai Technologies
Alaska Communications
Alaska Directional, LLC
Alcatel Submarine Networks
Aligned Energy
All Access Telecom, Inc.
ALT Telecom Public Company Limited
Altman Vilandrie
Amalgamated Telecom Holdings Limited
Amazon
Amazon Data Services Japan
Amazon Web Services
American Samoa Telecommunications Authority
American Tower Corporation
AMG Online Pty Ltd
AMICUS Co., Ltd.
AMS-IX
Angola Cables, SA
ANI Networks
Anticlockwise
Apelby Communications
Apogee Networks Ltd
Apomaya
Apple Inc.
Application Technology Strategy, LLC
Applied Satellite Technology Australia PTY Ltd
APSCC
APTelecom
AQEST
Aqua Comms Management Ltd.
Arianespace, Inc.
Arista Networks Inc.
ARM Data Center Services
Artel LLC
Arteria Networks Corporation
Asian Development Bank
Asia-Pacific Electronic Media Communications, LLC
AsiaSat
ASTCA
Astrocast
AT TOKYO Corporation
AT&T
ATLANTIC-ACM
Australia Japan Cable (Management) Ltd.
Avelacom
Aviation Communications Advisors
Axino Solutions GmbH
Axiom
Azion Technologies
Bangla Trac
Bankai Group
Baxtel.Com
BBIX, Inc.
BCE Nexxia – A Bell Canada Company
Beijing University of Posts and Telecommunications
Belau Submarine Cable Corporation
BGIS
Bharti Airtel Limited
BICS
BIG International Gateway (S) Pte Ltd
Biznet Networks
Bluesky Communications
Bluesky Cook Island Ltd
Bluetel Networks Pte Ltd.
Boeing Satellite Systems International, Inc., Space & Launch
Booz Allen Hamilton
BRFibra
Bridge Data Centres
Brightlink
Broadband India Forum
Broadband Tower Inc.
BroadGroup
Brookfield Asset Management
Brunei International Gateway
Bryan Cave Leighton Paisner LLP
BT
BT Americas Inc
BT Federal, Inc.
Bulk Infrastructure AS
ByteDance Inc
C&L Consulting
C3ntro Telecom
Calient Technologies
California State University, Long Beach
Calix Networks, Inc.
Campana Group
Canoga Perkins
Capabilities BVBA
Capacity Media
Carriox Capital
Cascade Divide Colo
Cascadia GateWay Inc.
Cataleya Private Limited
CBRE Data Center Solutions
CBRE K.K.
CBRE Pte Ltd
CBRE, Inc.
CDS Global Cloud
Centeris
CenturyLink
CFS Partners
Chalmers University of Technology
ChannellVision Magazine
Chayora Ltd
Chief Telecom Inc.
China Mobile International Limited
China Telecom Americas Corporation
China Telecom Global Limited
China Unicom (Americas) Operations Ltd.
China Unicom Global
ChinaCache Network Technology (Beijing) Limited
Chirisa Investments
Chroma ATE, Inc.
Chunghwa Telecom Co., Ltd.
Ciena
CIM Group
Cincinnati Bell
Cinia
Cisco Systems, Inc.
Citi
CITIC Telecom CPC
CITRIS Policy Lab, UC Berkeley
Clear Blockchain Technologies
Clemson University
Cloud Perspectives
Cloudflare
Cloudonomics and Digital Disciplines
Cloudscene
CMC Networks
CMC Telecom
CMS
CoastCom By Wave
Cocoa Oriental Network Limited
Cogeco Peer12
Cogent Communications
Colliers International
Colocation Northwest
COLO-D
Cologix, Inc.
Colt Data Centre Services
Colt Technology Services Co., Ltd.
Comcast
Comcast Technology Solutions
Comet Media
Communications Commission of Kiribati
Communications Data Group
Communications Regulatory Commission of Mongolia
Compass Datacenters
Competitive Telecoms Group
Computertel
COMSAT
COMSYS LLP
Comtech EF Data Corporation
Connected2Fiber Inc.
Converge ICT
CoreSite
Cornerstone Capital Partners
Corning
Cowen and Company
Cox Business
CPG
CPS Services, Inc.
Crosslake Fibre
Crown Castle Fiber
CRS
Crucial Group
CS INC
Cushman & Wakefield
Cypress Telecom Limited
CyrusOne
Cyxtera Technology
Daito Bunka University
DartPoints Micro Edge Data Centers
Data Center Consulting Group
Data Center POST
Data Foundry
DataBank
DatacenterDynamics
DataCentre231
Datagryd Data Centers LLC
DataSpace
Datora Telecom
Davao Inc.
DC BLOX
DC Byte Ltd
DCCA Cable TV Division
DCConnect Global Ltd
DE-CIX International GmbH
DE-CIX Management GmbH
DE-CIX North America
Deep Blue Cable
Defense Information Systems Agency/CE64
DENOVOLAB
Dentons
Department of Commerce and Consumer Affairs
Department of Communications-Government of Fiji
Department of Transportation, Communication & Infrastructure
Deutsche Bank
Deutsche Telekom North America, Inc.
Devoli
DH Capital, LLC.
Di² – Digital Infrastructure Investment
Dialog Axiata PLC
Dialpad
Diffraction Analysis
Digicel
DigiPlex AS
Digital Crossroads Data Centers
Digital Fortress
Digital Mobility Ventures
Digital Realty
Digital Transportation Corporation
DigitalFilm Tree
Digitalk
Direct Line
DISA PACIFIC
Disruptive Analysis
DOCOMO CS, NTT Docomo
Docomo Pacific Inc.
DoD
DOSarrest Internet Security
Dreamline
Drew & Napier, LLC
DRFortress
DRG Undersea Consulting
Dropbox, Inc
Du
Eastern Light
Easy Fibre
eBay Inc
EdgeConneX
EdgeCore Internet Real Estate
EdgeMicro
Edgepod
EGS Survey Group
Element Critical
EllaLink
Emerson College
Emirates Telecommunications Corporation – Etisalat
Entel
Enter / IRIDEOS
Enterprise Telecom, Ltd
Epsilon Global Communications
Equinix, Inc.
Ericsson
Ernst & Young GmbH
eStruxture Data Centers
Esun International
euNetworks Fiber UK Ltd
euNetworks Ltd
Eupen Cable USA
Eurofiber
Eutelsat
Eutelsat Asia Pte Ltd
Evoque Data Center Solutions
Exatel SA
EXFO Inc.
Expereo
Express Teleservice Corp. DBA LANCK Telecom
ExteNet / HFN
ExteNet Systems
EZ Mobile, LLC
F5 Networks
Facebook
Fareastone Telecommunications
Fasken Martineau DuMoulin LLP
Fastly, Inc.
Federal University of Rio Grande Do Norte
Fiber Sense Pty Ltd
FiberLight, LLC
FiberMisr
Fibrenoire
Fiji International Telecommunications Limited
Fijian Competition and Consumer Commission
FirstLight Fiber
Flexenclosure AB
Flexential
Flexoptix GmbH
Forrester Research
FPT Telecom
FreeConferenceCall.com
Frontier Communications
FSE Consulting
FSM National Government, Department of Transportation and Communications
FSM Telecom Regulation Authority
FSM Telecommunications Corp.
FSMT Cable Corp
Fugro Survey Pte Ltd
Fujitsu
Fujitsu Network Communications, Inc.
Future-tech
GapSat
GCI
GDS Services
GEMNET LLC
Genesis Utility Communication
GEOshare
GI Partners
GIIC
Global Broadband Solutions, LLC
Global Cloud Xchange
Global Marine Systems Ltd
Global Switch
GlobalConnect
Globalinx
Globe Telecom, Inc.
GlobeNet Cabos Submarinos America Inc.
Glory Technology (H.K) Group Limited
Glorytech
Gmobile LLC
GOIP Aula Ltd
Gold Data
Gold Sunshine Group
Goldman Sachs
Google Asia Pacific Ltd
Google Inc.
GPX Egypt Ltd
GPX Global Systems
GTA Teleguam
GTT
Guam Community College
Guam Public Utilities Commission
H&K Consulting
Hakuoh University
Harbour Centre Complex Limited
Harris, Wiltshire & Grannis LLP
Hawaii Public Radio
Hawaiian Telcom
Hawaiki Submarine Cable
HD Tandem
Hengtong Marine Cable Systems Co., Ltd
Hexatronic
HGC Global Communications Limited
Hibbard Consulting Pty Ltd
Himes Associates, Ltd.
HKCOLO.NET Limited
HKT Limited
Hong Kong Broadband Network Limited
Horizons Ventures Limited
HOT TELECOM
HSBC
Huawei Marine Networks Co., Ltd.
Huawei Technologies Company
Hui `A'a LLC
Hurricane Electric
Hydro Quebec
Hyper Networks
Hypertec DCS
I Squared Capital
iBasis
IBM
IBM Cloud Infrastructure (Softlayer)
IBM Institute for Business Value
ICNC of Mongolia
IDC Frontier Inc.
IDI Billing Solutions
IDT Corporation
IEEE Communications Society
IFN.COM
IIJ America
Ililani Media
Illuminated Solutions
Imgix
iMiller Public Relations
Impact Telecom
INAP
InComm, Inc.
Indian Institute of Management, Ahmedabad
Indiana University
Indiogo-belcom Ltd
Industry Capital
Infinera Corporation
Inflect, Inc.
Inforsec
Inmarsat
INOC
Insight
Integra Mission Critical
Inteliquent
InterGlobix LLC.
International Finance Corporation (IFC) – World Bank Group
International Gateway Co., Ltd.
Internet Initiative Japan Inc.
Internet Keeper
Internet Tool & Die Company
INTERNEXA S.A.
Interxion
Inteserra Consulting Group
Invest Quebec
Inyo Networks Inc.
IP Carrier
IPG Photonics Corp
IPI Partners
IPLink Telecom
IPS, Inc.
IPTP Networks
IPv4.Global
Iristel Inc.
Iron Mountain
Iron Mountain Data Centers
ISER, University of Alaska, Anchorage, and University of San Francisco
ITU
ITUAJ
IX Reach
IXcellerate Ltd
Japan Infrastructure Initiative
Japan Internet Exchange Co., Ltd
Jaymie Scotto & Associates
JLL
Johor Bahru Internet Exchange (JBIX)
Join
JP Morgan
JPNAP
Julian Rawle Consulting
Jump Trading
K2 Data Centres
Kacific Broadband Satellites Ltd.
Kapany Networks, Inc.
KDDI America / TELEHOUSE
KDDI America Inc
KDDI Corporation
Keio University
Kelley Drye & Warren LLP
Kentik Technologies
Keybanc Capital Markets
Kingsoft Cloud
Kokusai Cable Ship Co., Ltd.
Komazawa University
Kordia New Zealand
Kore International Limited
Korea Advanced Institute of Science and Technology (KAIST)
Korea Internet Neutral eXchange (KINX)
Korea Telecom
KS LINK TELECOMMUNICATION LIMITED
KT Corporation
KTSAT
Kyushu University
Lanck Telecom
Landing Point Telecom, LLC
Larus Cloud Service Limited
Latino Communications
Latitude Dynamix NZ Ltd
Leidos
LeoSat Enterprises
Lewis Roca Rothgerber Christie LLP
LG Uplus
Light Source Communications
LightRiver
LinkedIn Corporation
LINX America, Inc
Liquid Sea Ltd
London Internet Exchange (LINX)
Lunar Development Company
LXT Networks Co., Ltd
M1 Limited
Maberly & Co
Macauto Development Co., Ltd.
Mackay Telecommunications Inc.
Macquarie Capital
Macquarie Telecom
Mainberg Limited
Maincubes
MainOne
Manic Enterprises Inc.
ManSat LLC
Mapcom Systems
Marcatel
Marshall Islands National Telecommunications Authority (NTA)
Masergy
MasTec North America, Inc.
Matanuska Telephone Association
Matrix Networks
Matrix Networks Pte Ltd
MC Digital Realty, Inc.
McCann Consulting
McKay Brothers
Megaport (Australia) Pty Ltd.
Megaport Ltd.
Meridian Fiber Group
Mertech Marine
Metro Optic
Metropolitan State University
Microcom
Microsoft
Ministry of Communications
Ministry of Communications Transport
Ministry of Information, Communication, Transport and Tourism Development
Ministry of Internal Affairs and Communications (MIC)
Ministry of Telecommunications & Information Technology
Mintz Levin Cohn Ferris Glovsky & Popeo P.C.
Mir Telecom Limited
MNF
Mobi, Inc.
Mobicom Networks
MobiFone International Telecommunications Center
Mongolia Telecom Company
Montreal International
Morgan, Lewis & Bockius LLP
MS Consulting Tahiti
mu Space and Advanced Technology Co., Ltd.
mu Space Corp
Multapplied Networks Inc.
Multinet Pakistan Private Limited
MV Communications Group
Myriad
Nanyang Technological University
NAS Wireless/Network Access Solutions
National Chengchi University
National Security Agency
National Telecommunications Regulatory Authority (NTRA) of Egypt
Natixis
Ncell Private Limited
NEC Corporation
Nepal Telecom
Net Results
Neterra Ltd
Netflix
Netmagic Solutions – NTT Communications Company
Netnumber, Inc.
Netrality Properties
NetsEdge, LLC
Neutrona Networks
New Media Ventures
Newby Ventures
Newtec
NewTelco GmbH
NEXTDC Limited
Nexusguard, Inc.
NGT Networks Pte Ltd
NISC
NJFX
NMSWorks Software Private Limited
NoaNet
Nobel
Nobel Globe
Nokia
Nomura
NORDUnet
Northern Sky Research (NSR)
Northumbria University
Nova Systems
Novelsat
NSFOCUS Global
NTT America, Inc.
NTT Communications Corporation
NTT DATA Corporation
NTT Docomo Pacific
NTT Global Networks
NTT SmartConnect Corporation
Nuphoton Technologies Inc.
NxtVn
Object Management Group, Inc.
Ocean Networks
Ocean Specialists, Inc.
ODATA
Office of the Regulator
OFS Fitel, LLC
Olympusat Telecom
Oman Telecommunications
Oncept Inc.
OneWeb
Open-IX Association
Oppenheimer & Co. Inc.
OPT French Polynesia
Optic Marine Services Sdn Bhd
Optiver
Optus
Opus Interactive
Oracle
Orange
Orange Marine
OTEGLOBE S.A.
OTR Global
Owl Ridge
Pacific Crossing
Pacific Islands Telecommunications Association (PITA)
Pacific Light Data Communication Co., Ltd.
Pacific Systems Corporation
Pacific Telecommunications Council Japan Committee (PTCJ)
Packetfabric, LLC
Padtec
Palau National Communications Corporation
Panduit
Pareteum Corporation
Paul Hastings LLP
PC Landing
PCCW Global, Ltd.
Peerless Network, Inc.
Pelagian Limited
Pennsylvania State University
Peraton
Personal Media Press
Petabit Scale
Phoenix Center for Advanced Legal & Economic Public Policy Studies
Phonetime, Inc.
Pilot
Pioneer Consulting Holdings LLC
PivIT Global
PJSquare Ltd.
Planet Cable, Inc.
PLD, LLC
PLDT / Smart
PLDT Global Corp
PLDT, Inc.
PointOne Development
Policy Tracker
PP Telecommunication Sdn Bhd
Precision Optical Transceivers
Privé Technologies
PT Telekomunikasi Indonesia International (TELIN)
PTI Pacifica, Inc. d/b/a IT&E
Public Utilities Commission of Guam
QTnet, Inc.
QTS Data Centers
Quantlab Financial
Quinault Indian Nation (QIN)
Quintillion
QXTEL Ltd.
Racks Central Pte Ltd
Radius Telecoms, Inc
RagingWire Data Centers
Range Global Services
RBC Capital Markets
RBC Signals
RCN, Grande and Wave Business Solutions
REANNZ
RED Technologies
REDCOM
Redding Associates
Reed Smith
Regions Securities
Reliance Communications & Global Cloud Xchange
Resurgence Infrastructure Group
Retelit
RETN
RightCall
Rincon Technology
RingCentral Inc.
Riwer Corporation S.A.
Rogers Communications Inc
ROOT Data Center
RouteTrust
RSCOM
RTI
S and BTS Global
S. B. Submarine Systems Co., Ltd.
Salesforce.Com, Inc.
Samsung SDS
Sapience Capital Partners
Satellite Markets and Research
Schneider Electric
Scripps Institution of Oceanography, UC San Diego
SCSK Coporation
Sea Risk Solutions
Seaborn Networks
SEACOM, Ltd.
SEAX Global
SecurityFeeds LLC
Sejong Telecom
ServiceNow Inc
Servicio Di Telecomunicacion (SETAR) NV
SES
SES New Skies Satellites BV
Shaw Business
Shaw Communications
Sify Technologies Ltd.
Singtel
Singtel Optus Pty Ltd
Sipartech
Sipjoin Holding Corp
Sippy Software Inc.
Skanska USA Building
Skype
Skytel Group
SMBC
Softbank Corp.
SoftBank Corp. / BBIX
SoftBank Telecom America Corp.
Solid Optics LLC
Somos
Sony Interactive Entertainment (PlayStation)
South Atlantic Express Ltd (SAEx)
Southern California Edison
Southern Cross Cable Network
Space Systems/Loral
SpaceX
Spark New Zealand Ltd
Sparkle
Spectrum Enterprise
Speedcast
Sri Lanka Telecom PLC
ST Telemedia GDC Pte Ltd
Stack Infrastructure
StackPath
Star America Infrastructure Partners
Star2Star Communications
StarHub Ltd.
Stonepeak Infrastructure Partners
Strand Consult
StrataNet Group Limited
STRH
Structure Research
STT GDC India
STT Global Data Centres
Stutzman, Bromberg, Esserman & Plifka, P.C.
Stylus Networks
SubCom
Submarine Telecoms Forum
SubOptic Association
Subsea Communications Ltd.
Subsea Environmental Services
Subsea Networks
Subzero Engineering
Sumitomo Electric Industries, Ltd.
SummitIG
Sun Global Broadband
SUNeVision Holdings Ltd.
Sunshine Coast Council
SunTrust Robinson Humphrey
Superloop
Switch
T5 Data Centers
Taiwan Fixed Network
Taiwan National Chengchi University
Takasaki University of Commerce
Talari Networks
Tampnet
Tata Communications
Telamon Corp
Telco 225
TelconVoice LLC
Telcotech Ltd
Telecom Egypt
Telecom Fiji Limited
Telecom Review North America
Telecommunications Commission of Solomon Islands
Telefonica International Wholesale Services II SL
TeleGeography
Telekom Malaysia Berhad (TM)
Telekomunikasi Indonesia International (Hongkong) Limited
Telenor
Telenor Global Services AS
Telesat
TeleTok
Telia Carrier
Teliax, Inc.
Telnyx LLC
Telstar Express
Telstra
TELUS Communications Inc.
Telxius Cable
Tencent
Tencent / Wechat
Tenebris Fiber, LLC
TEPCO Optical Network Engineering Co., Ltd.
Teraco Data Environments
Terrapinn Pte Ltd
Thales Alenia Space
The AIMS Asia Group
The Church of Jesus Christ of Latter Day Saints
The Colburn School
The Horizon Communications Group,Inc.
The Intelligent Network
The Internet Protocol Journal
ThinkTech Hawaii, Inc.
Threshold Communications, Inc.
TierPoint
TIME dotCom Berhad
TM Global
TNZI New Zealand Ltd
Tofane Global
TOKAI Communication Corporation
Toll-Free Exchange
Tonga Cable Limited
Tonga Communications Corporation
Tower Research Capital
Towngas Telecommunications Co. Ltd
Towngas Telecommunications Fixed Network Ltd.
TPG Telecom
TRC
Turk Telekom International
Turk Telekom International HU Kft.
Turner & Townsend
Tuvalu Telecommunications Corporation
Twilio, Inc.
Twitch Interactive, Inc.
Twitter
TXO Systems
UFINET
UIPRE (Union Internationale Presse Electronique)
Unitas Global
United States Senate
Uniti Fiber
Uniti Leasing LLC
University of Dhaka, Bangladesh
University of Guam
University of Hawaii
University of North Carolina, Greensboro
University of Oxford
University of Pittsburgh
University of San Diego
University of Southern California
University of Technology, Sydney
University of the Philippines Diliman
University of the South Pacific
University of Washington
US Department of State
US Government
US Matrix
US Navy
USG
Vac Varosi Kabeltelevizio Kft
Vantage Data Centers
Vanuatu Government
Vapor IO
Vasudev
Velo Technologies
VEON Wholesale Services
Verizon
Verizon Media / Yahoo!
Verizon Media Group
Verizon Partner Solutions
Versa Networks
Verscom Carrier Voice
Vertiv
Viasat Inc.
Vigilent
VIRTUS Data Centres
Virtutel
VNPT
VNPT International
VNPT Net
Vocus Communications
Vodafone
Vodafone Fiji Limited
Vogel Telecom
Voiceinc
VoIP Guardian LLC
vXchnge
W. B. Walton Enterprises, Inc.
Washington State Department of Commerce
Wave Business
Wave Wholesale
WaveXchange
Waycom France & Canada
Welltool Co., Ltd.
West Corp
Westin Building Exchange
WFN Strategies, LLC
Wide Voice
Windstream
Winncom Technologies
WIOCC
WiPhi, Inc.
WireIE
Xiamen Century Albert Network Technology Limited
XKL
XSite Modular
Xtera, Inc.
Yamamoto Caliboso LLLC
Ytel, Inc.
Zayo
ZenFi Networks
Zenlayer Inc
Zenzu
Zipwhip
Zoom Video Communications
PTC'18 Call For Participation (CFP)
THE PTC'18 CALL FOR PARTICIPATION (CFP) IS NOW CLOSED TO ALL GENERAL AND ACADEMIC PROPOSALS.
PTC is accepting applications for the Yale M. Braunstein Student Prize Award through 1 September 2017.
Applications are now being accepted for PTC's 2018 YSP. The application deadline is 1 September 2017.