PTC's Annual Conference is a strategic springboard for the global communications industry, providing all attendees with a three-day platform to focus on planning, networking, and discovering what lies ahead for the ICT industry. Start the new year off right and join us in Honolulu, Hawaii for the Pacific Rim's premier telecommunications event, PTC'20: Vision 2020 and Beyond.
Error, group does not exist! Check your syntax! (ID: 4)
PTC'20 Attracted Senior Executives
Note: C-Suite category includes Chairman, President, CEO, COO, CFO, CTO & CIO
PTC'20 Attendees by Interest
Nations Represented at PTC'20
Percentage based on conference registrants from each country
PTC'20 Attendees by Industry
Percentage based on conference registrants from each industry
19–22 JANUARY 2020
HONOLULU, HI
Pacific Telecommunications Council's Annual Conference will take place at the
Hilton Hawaiian Village® Waikiki Beach Resort in Honolulu, Hawaii.
Hilton Hawaiian Village® Waikiki Beach Resort
2005 Kalia Road
Honolulu, HI 96815-1999
USA
Phone: +1.808.949.4321
Fax: +1.808.947.7898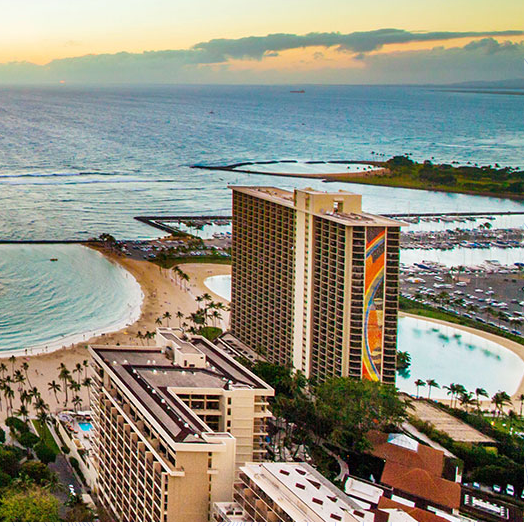 GOLD SPONSORS
BRONZE SPONSORS
1025Connect
10x People
1623 Farnam
1stPoint Communications
212 Communications
26FIVE Tech
325 Hudson
382 Communications
3C Systems Company
46 LABS INC
48 North Solutions, Inc.
6connect
8×8
A Henkels & McCoy Group Company
A3 Telecom Inc.
AAPT Limited – A TPG Telecom Company
AARNet Pty. Ltd.
ABB Inc.
ABS Global Ltd.
ACA International, LLC
Acacia Communications Inc
Activatel AG
Adani
Addrex, Inc.
ADVA Optical Networking
Advocate Management Partners LLC
AECOM
AirTrunk
Akamai
Alaska Communications
Alaska Directional, LLC
Alcatel Submarine Networks
Algoblu
Aligned
Alindale Consultants
All Access Telecom, Inc.
Allstream
Allstream Business Inc.
Altibox
Amalgamated Telecom Holdings Limited
Amazon
Amazon Connect
Amazon Web Services
American Registry for Internet Numbers (ARIN)
American Samoa Department of Education
American Samoa Government
American Samoa Government – Department of Commerce
American Tower Corporation
AMS-IX
Angola Cables, SA
Appleby Strategy Group LLC
Application Technology Strategy, LLC
APSCC
APTelecom
Aptient Consulting Group Inc.
Aptum Technologies
AQEST
Aqua Comms Management Ltd.
Arcadian Infracom, Inc.
Arm, Inc.
Artel LLC
Arteria Networks Corporation
Aryaka Networks
Ascent
ASG ERF
ASH Cable – Bluesky
Asia Satellite Telecommunications Co Ltd
Asian Development Bank
Asian Infrastructure Investment Bank
Asia-Pacific Electronic Media Communications, LLC
Association of Micronesian Utilities
AT TOKYO Corporation
AT&T
AT&T Government Solutions
ATLANTIC-ACM
Australia-Japan Cable Limited
Avaroa Cables Ltd`
Avelacom
Aviation Communications Advisors
Avid Telecom
AW Edwards P/L
Baker Botts
Bandwidth
Bangla Trac
Bankai Group
Baxtel.com
BB Backbone Corporation
BBIX, Inc.
BCE Global, a Bell Canada company
BCS Data Center Operations
BDx
Beanfield MetroConnect
Beckert Global
Belau Submarine Cable Corporation
Bermuda Business Development Agency (BDA)
Bharti Airtel Limited
BICS
BIG International Gateway (S) Pte Ltd
Biznet Networks
Blackburn
Bluesky Communications
Bluesky Cook Island Ltd
Bluetel Networks Pte Ltd.
Booz Allen Hamilton
Box, Inc.
Bridge Data Centres
BroadBand Tower, Inc.
BroadGroup
Brodynt Global
Brookfield Asset Management
Bru-Haas Sdn Bhd
Bryan Cave Leighton Paisner LLP
BT (British Telecom)
BT Business
BT Federal, Inc.
BTS Inc.
Bulk Infrastructure AS
BwebwerikiNET Ltd
ByteDance Inc
C3ntro Telecom
California State University, Long Beach
Calix Networks, Inc.
CallCaribe, Inc.
Cambridge Management Consulting
Canadian Radio-television and Telecommunications Commission
Capacity Media
Capitalonline Data Service Co., Ltd
CARMA, Inc.
CarrierX
Carter Validus
Cascadia GateWay Inc.
CAT Telecom Public Company Limited
Cataleya Private Limited
CBRE
CBRE DCS
CBRE K.K.
CBRE Pte Ltd
CBRE, Inc.
CDC Data Centres
Centeris
CenturyLink
Channel Vision Magazine
Charter Communications
Chayora Holdings Limited
Chief Telecom Inc.
China Broadband Communications
China International Crancloud Co,. Limited
China Mobile International Limited
China Telecom (Europe) Ltd
China Telecom Global Limited
China Telecom Group
China Unicom (Americas)
China Unicom (Americas) Operations Ltd.
China Unicom (Hong Kong) Operations Limited
Chindata Group
Chirisa Investments
Chunghwa Telecom Co., Ltd.
Ciena
CIM Group
Cincinnati Bell Inc.
Cinia
Cinturion Corp.
CISA Integrated Operations Coordination Center, DHS
Cisco Systems
Citi
CITIC Telecom CPC
Citigroup
City of Virginia Beach Department of Economic Development
Clarity Networks
Clemson University
Cloud Perspectives
Cloudflare Inc.
CloudHQ LLC
Cloudscene
CLP
CMC Networks Americas
CMC Telecom
Coastal Conexions
Cobalt Telecom Inc
CoBank
Cocoa Oriental Network Limited
Cogent Communications
Colocation Northwest
Cologix, Inc.
Colt Data Centre Services
Colt Technology Services
Comcast
Comcast Technology Solutions
Comet Media
CommScope
Communications Commissions of Kiribati
Communications Data Group
Compass Datacenters
Competitive Telecoms Group
Compu Dynamics
ComputerTel/Directo
COMSAT
COMSYS LLP
Comtech EF Data Corporation
Comunicano, Inc
Comvid Communications
Confidencia Consulting e.K.
Connected2Fiber Inc.
Converge ICT
Core
Corero Network Security
CoreSite
Cornerstone Capital Partners
Corning Incorporated
Cowen and Company
Cox Business
CPG
CPS Services, Inc.
Crane Data Centers
Cronos Group Limited
Crosslake Fibre
CrowdStrike Inc.
Crown Castle Fiber
CRS
CS INC
CtrlS Datacenters Limited
Cushman & Wakefield
Cypress Corporation
Cypress Telecom Limited
CyrusOne
Cyxtera Technologies
DAMAC
DartPoints
Data Center Frontier
Data Foundry
Data4 Group
DatacenterDynamics
DatacenterHawk
Datagryd Data Centers, LLC
Dataplex Group Limited
Datawave Networks Ltd
Datora Telecom
Dave Oliver Hydrographic Services Ltd
DC BLOX
DCConnect Global Ltd
Dean Nelson Inc
DE-CIX Group AG
DE-CIX International
DE-CIX Management GmbH
DE-CIX North America
Defense Information Systems Agency
Denovolab
Dentons US LLC
Dentons US LLP
Department of Defense
Department of Finance
Deutsche Bank
Deutsche Telekom North America
DH Capital, LLC.
Di² / Kapena
Dialpad
Digicel Group
Digicel Pacific
DigiPlex AS
Digital Colony
Digital Crossroads Data Centers
Digital Edge Asia Ltd.
Digital Realty
Digital Transportation Corporation
DigitalFilm Tree
DIGITALK
Digitec Communications PNG Ltd
Dinacell
Diode Ventures
Direct Line
DISA
DISA Pacific
Disruptive Analysis
DLR Group Inc.
Docomo Pacific Inc.
Dreamline Corporation
DRFortress
DRG Undersea Consulting
Drivetrain
Dropbox Inc
DRS Global Enterprise Solutions
DRW-NX
Du
Duke University
DXN Limited
eASPNet Inc.
East Photonics
Eastern Light
Easy Fibre
eBay Inc
Edge Gravity
EdgeConneX
EdgeCore Internet Real Estate
EdgeMicro
EdgePresence
EGS Survey Group
EllaLink
Emerson College
Emirates Telecommunications Corporation – Etisalat
Empyreal
Enterprise Risk Advisors
Enterprise Telecom, LTD
Epsilon Global Communications
EQT Partners, Inc.
Equinix
Ericsson
Ernst & Young GmbH
ESD
EStruxture Data Centers Inc
Etix Everywhere
euNetworks Fiber UK Ltd
euNetworks Ltd
Eupen Cable, USA
Eurofiber
Eutelsat Asia
Even Group
Evenio Networks
Evoque Data Center Solutions
Exelon
EXFO Inc.
Expereo International
ExxonMobil
F6 Networks Inc.
Facebook
Far North Digital, LLC
Fasken Martineau DuMoulin LLP
Fastly, Inc.
Fiber Sense Pty Ltd
Fiberlight
Fibre Expressway Pty Ltd
Fiji International Telecommunications Pte Limited
FirstLight Fiber
Flexential
Forrester Research
FreeConferenceCall.Com
Frontier Communications
FSE Consulting
FSM Telecommunication Regulation Authority
FSM Telecommunications Corporation
FSM, DTC&I
FSMT Cable Corp
FTI Consulting
Fugro Survey Pte Ltd.
Fujitsu
Fujitsu Network Communications, Inc.
FUNGLODE
GapSat
GCI
GDS Services
Gemnet LLC
GEOshare
GI Partners
GIC Real Estate
GigaCom
GIIC
Global Broadband Solutions, LLC
Global Cloud Xchange
Global Marine Systems Ltd.
Global Switch
Global Telecom Women's Network (GTWN), and The Mobile Century
GlobalConnect
Globalinx
Globe Telecom, Inc.
GlobeNet Cabos Submarinos America Inc.
GOIP Aula Ltd
Gold Data
Gold Sunshine Group
Goldman Sachs
Google LLC
Government of Fiji – Department of Communications
GPX Global Systems Inc.
GPX India Pvt Ltd
Greensill Capital
GSL Networks Pty Ltd
GSMA
GTA Teleguam
GTT
Guam Power Authority
Guam Public Utilities Commission
Gulf Bridge International (GBI)
Harbour Centre Complex Limited
Harris, Wiltshire & Grannis LLP
Hawaii Pacific Teleport LP (HPT)
Hawaiian Telcom
Hawaiki Submarine Cable
Haz Mission Critical
Hellman Electric
Hengtong Marine Cable Systems Co., Ltd
Hexatronic Group AB
HGC Global Communications Limited
Hibbard Consulting Pty Ltd
Himes Associates, Ltd.
Himes Program Management
Hkcolo.Net Limited
HKT Limited
HOT TELECOM
Huawei Marine Networks Co., Ltd.
Hub Consulting
Hurricane Electric
Hydro Quebec
Hylan
Hyper Networks
Hypertec DCS
I Squared Capital
iBASIS
IBM
IBM Cloud Infrastructure (Softlayer)
Icon
ICS
ICT-ISAC
IDC Frontier Inc.
IDI Billing Solutions
IDT Corporation
IEEE
IES
IFC
IFN.COM
IIJ America
Ililani Media
Illuminated Solutions
iMiller Public Relations
Imperium Global Partners
INAP
Indian Institute of Management, Ahmedabad
Indiana University
Indigenous Futures Collective
Indosat Ooredoo
Infinera Corporation
Inflect, Inc.
Information Communication Network LLC
Informatique ProContact
Inforsec
Infrastructure Masons
Inmarsat
INOC
Inphi
Integra Mission Critical
Integrated Development Foundation (IDF)
Intel
Inteliquent
Intelsat Corporation
InterGlobix LLC.
International Finance Corporation (IFC) – World Bank Group
International Gateway Company Limited
Internet Initiative Japan Inc.
Internet New Zealand, Christchurch Call Advisory Network
Internet Society
Internet2
INTERNEXA S.A.
Interxion
Invest Quebec
IP Carrier
IPI Partners
IPLink Telecom
IPS, Inc.
IPTP Networks
Iristel Inc.
Iron Mountain Data Centers
IT-ISAC
ITOCHU Techno-Solutions Corporation
ITUAJ
IX Reach Ltd.
IX Telecom Sdn Bhd
IXcellerate Ltd.
Japan Infrastructure Initiative
Jaymie Scotto & Associates
JBIX
JICT
JLL
Join
Jones Lang LaSalle
JPIX
JPNAP
JPT Global Solutions Ltd.
Jump Trading
Juniper Networks
Kacific Broadband Satellites Ltd.
Kao Data Campus
Kapena
Kasi Group
KDDI
KDDI America / TELEHOUSE
KDDI America, Inc
KDDI Corporation
Keio University
Kelley Drye & Warren LLP
Kentik Technologies
KevlinX Data Centre Services
Keybanc Capital Markets
Keyser Digital Infrastructure Solutions
KFTC
KINX Inc.
Kio Networks
KKR Japan Limited
Kokusai Cable Ship Co., Ltd.
Kore International Limited
Korea Internet Neutral EXchange
KT
KT SAT
KT Submarine
KU Leuven
Kyoto University
L2 Cyber Solutions
Lanck Telecom
Landing Point Telecom, LLC
Lando Transit International S.R.O
Larus Cloud Service Limited
Latino Communications
Latitude Dynamix NZ Ltd
Lawrence Berkeley National Lab
Layer 7 Capital
Legacy Investing, LLC
LG Uplus
Light Source Communications
LightEdge Solutions
LightRiver
Lightstorm Telecom Ventures
LinkedIn Corporation
Liquid Telecom
Local Authorities Satellite Communications Organization (LASCOM)
Locke Lord (UK) LLP
Lockheed Martin Commercial Launch Services
London Internet Exchange (LINX)
Loon LLC
LXT Networks Co., Ltd
M1 Limited
M3COM of Virginia
M800 Limited
Maberly & Co
Macquarie Telecom Group
Maincubes Secure Datacenters
ManSat LLC
Marcatel
Marshall Islands National Telecommunications Authority
MasTec North America, Inc.
Matanuska Telephone Association
Matrix Networks
Maxcom Telecomunicaciones
Mayo Clinic
MC Digital Realty, Inc.
McCann Consulting International
McGill University
McKay Brothers
Megaport
Megaport (Australia) Pty Ltd.
Mertech Marine
Metro Optic
Microcom, Pacific Dataport Inc.
Microsoft Corporation
Mid-Atlantic Broadband Communities Corporation
Ministry of Information, Communication, Transport and Tourism Development
Ministry of Internal Affairs and Communications (MIC)
Mintz Levin Cohn Ferris Glovsky & Popeo P.C.
Mitsubishi Research Institute
Mitsubishi UFJ Lease & Finance Company Limited
Mitsui & Co.
Mobi, Inc.
MobiCom Corporation
Mobicom Networks
Molex
Mongolia Telecom Joint Stock Company
Montreal International
Morgan, Lewis & Bockius LLP
Mox
MS Consulting Tahiti
MTA Fiber Holdings
MVP Capital
N0R5KE Fibre AS
NANOG
NAS Wireless/Network Access Solutions
Nation of Hawaii
National Fiber Networks De Mexico
National Institute of Informatics
National Institute of Information and Communications Technology
National Science Foundation
National Telecommunications Regulatory Authority (NTRA) of Egypt
National Transportation Authority of Mongolia
Natixis
Nat'l Institute of Inform. and Comm. Tech. (NiCT)
Natural Habits
Nave Communications
Navy
Ncell Private Limited
NEC Corporation
Neeco Global ICT Services
nem Australasia Pty Ltd
Nepal Telecom
Net Results
Netflix
Netmagic IT Services Pvt Ltd
Netnod
Netrality Data Centers
Netrality Properties
Netsapiens
Netskope, Inc.
Network Dynamics Associates, LLC
Neutral Networks
Neutrona Networks International LLC
New Horizons Telecom, Inc.
New Media Ventures
Newmark Knight Frank – Valuation & Advisory
NewTelco GmbH
Nexans Norway AS
NEXTDC Limited
Nexthop
NextNet Investments
Nexusguard
Nice – InContact
NISC
NJFX
NMSWorks Software Private Limited
NOAA Federal
NoaNet
Nobel
Nokia
NORDUnet
Northern Sky Research (NSR)
Northern Territory Government
Northumbria University
NPS Co., Ltd.
NSW – Prysmian Group
NTT – Netmagic
NTT Communications Corporation
NTT DATA Corporation
NTT Docomo Pacific
NTT Global Data Centers
NTT Global Networks
NTT Limited
NTT Singapore Pte Ltd
NTT SmartConnect Corporation
NTT Taiwan Ltd.
NTT World Engineering Marine Corporation
Nuphoton Technologies
Nuran Wireless
NYI
OCC Corporation
Ocean Networks Inc.
Ocean Specialists, Inc. (OSI)
ODATA
Office of the Director of National Intelligence
OFS
Olympusat Telecom
Oman Telecommunications
Oncept Inc.
OneWeb Enterprise Solutions
Oppenheimer & Co. Inc.
OPT French Polynesia
Optic Marine Services Sdn Bhd
Optiver
Optus
Opus Interactive
Oracle
Orange
Orange Carriers USA
Orange Marine
OSI Global IT
Ostrom Workshop, and Indiana University-Bloomington Cybersecurity Program
OTEGLOBE S.A.
Over the Wire
Pacific Basin Development Council
Pacific Crossing
Pacific Dataport Inc.
Pacific Enterprise Capital International
Pacific Islands Telecommunications Association (PITA)
Pacific Light Data Communication Co., Ltd.
Pacific Systems Corporation
Pacific Telecommunications Council
Packet Host, Inc
PacketFabric
PAG
Palau National Communications Corporation
Palladium Partners
Panamax Inc
PAO Megafon
Parcus Group
Pareteum
Paul Hastings LLP
PayPal
PCCW Global
PCCW Global, Inc.
PCCW Global, Ltd.
PCCW Solutions
Peerless Network, Inc.
Pelagian Limited
Penn State University
Peraton
Percepture
Personal Media Press
Petabit Scale
PGIM Real Estate (Japan)
PHCOLO Inc.
Phonetime Inc
Pioneer Consulting Holdings LLC
PivIT Global
Pivital
PJSC Rostelecom
PJSquare Ltd.
Platcode
Platin Telecom
PLDT
PLDT Global
PLDT US Ltd.
PLDT, Inc.
PointOne Development Corp
PP Telecommunication Sdn Bhd
Prime Data Centers Corp
Princeton Digital Group
Prysmian Group
Psychz Networks
PT BIznet Gio Nusantara
PTC India Foundation
PTC Japan
PTI Pacifica, Inc. dba IT&E
Public Sector Sales Department
QTnet, Inc
QTS
QuadraNet Enterprises LLC
Quality Uptime
Quinault Indian Nation
Quintillion Networks
QXTEL LTD.
RackBank Datacenters Ltd
Racks Central Pte Ltd
Radius
Rahi Systems, Inc.
Rakuten Inc.
Rakuten Mobile, Inc.
Range Global Services
RBC Capital Markets
RBC Signals
RBDC Pte Ltd
RED Technologies
REDCOM
Redding Associates
Regions Securities
Retelit
RETN
Rice Seed Sector Development/WHH, Myanmar
Ridge
RightCall
Rincon Technology Inc.
RingCentral Inc.
RISE
Riwer Corporation S.A.
Rochester Network Supply
Rogers Communications Canada Inc.
Rostelecom
Rostelecom PJSC
RouteTrust
Royal Cablevision Corp.
RSCOM
Rsquared Telecom
Ryerson University
S and BTS Global
S. B. Submarine Systems Co., Ltd.
Sacofa Sdn. Bhd.
SAEx
SAITA Corporation
Salesforce
Saltwater Cables Private Limited
Samsung SDS
Sapience Capital Partners
Sarawak Multimedia Authority
Schneider Electric
Schneider Rucinski Enterprises
Scripps Institution of Oceanography
SCSK Corporation
SD Data Center
SDC Corporation
Sea Risk Solutions
Seaborn Networks
SEACOM, Ltd.
Seagate Technology
SEAX Global
Sejong Telecom
Serial Entrepreneur – SES, Loral Teleport Europe, Europe Online, GTWN, OWNSAT
ServerFarm
Servers Australia
Service Command Center – Globe Telecoms
ServiceNow Inc
Servpac, Inc
SES
SES Networks
Shaw
Shaw Business
Shaw Communications
SHIFT, and ShanghaiTech University
Siemens Schweiz AG Smart Infrastructure
Sify Technologies Ltd.
Silica Networks, LLC
Silicon Valley Artificial Intelligence Research Institute
Singtel Optus Pty Ltd
Sipartech
Sipjoin Holding Corp
Sippy Software, Inc.
SK Telecom
Skagenfiber
Skanska USA Building
SKY Perfect JSAT Corporation
SmartBiz Telecom
SmartCIC Global Services SARL
Softbank Corp.
SoftBank Corp. /BBIX
SoftBank Telecom America Corp.
Solid Optics LLC
Somos
Sony Interactive Entertainment
Sophia University
South Atlantic Express International Ltd (SAEx)
Southern California Tribal Chairmen's Association
Southern Cross Cable Network
Southwest Jiaotong University
Space Telelinfra Pvt Ltd
SpaceDC
Spark New Zealand Ltd
SPARKLE
Spectrum Enterprise
Speedcast
Sprint
ST Engineering iDirect
ST Telemedia Global Data Centres
STACK INFRASTRUCTURE
StackPath
Stacks Network Co., Ltd.
State of Hawaii
Stateless Inc.
Stellium Datacenters
Stonecourt Capital
Stonepeak Infrastructure Partners
StrataCore
StrataNet Group Limited
Stream Data Centers
STRH
Structure Research
Structured
STT GDC India
Stulz Oceania Pty Ltd
Stutzman, Bromberg, Esserman & Plifka, P.C.
SUB.CO
SubCom
Subex Inc
Submarine Networks World
Submarine Telecoms Forum
SubOptic
Subspace Communication LLC
Subzero Engineering
Sumitomo Electric Industries, Ltd.
SummitIG
Sun Global Broadband
SUNeVision Holdings Ltd.
SunTrust Robinson Humphrey
Superloop
SURF
Swarmio Media
Switch
Sync and Secure Technologies
T5 Data Centers
Takasaki University of Commerce
Tampnet Carrier
Tata Communications
Tate
TCF Bank
TCF Financial
Telco 214
Telco2
TelcoHubeXchange Malaysia
Telebiz International
Telecom Egypt
Telecom Fiji Limited
Telecom Review North America
Telecommunications Management Group, Inc. (TMG)
Telefonica International Wholesale Services II SL
TeleGeography
Telekom Malaysia Berhad (TM)
Telenor Global Services AS
TeleSign
TeleSource Communications Inc.
TeleTok
Telia Carrier
Teliax, Inc.
Telin
Telin Hong Kong
Telin Singapore
Telkom Indonesia
Telnyx LLC
Telo
Telstar Express
Telstra
TELUS
Telwide SA
Telxius
Tencent
Tencent Cloud
Tenebris
TEPCO Optical Network Engineering Co.Ltd.
Thales Alenia Space North America
The Church of Jesus Christ of Latter Day Saints
The Colburn School
The Horizon Communications Group,Inc.
The Intelligent Network
The MITRE Corp
The Pennsylvania State University
ThinkTech Hawaii, Inc.
TierPoint
TIME DotCom Berhad
TMG, Inc.
TNZI New Zealand Ltd
TNZI New Zealand Ltd/MNF Group Limited
TOKAI Communications Corporation
Toll-Free Exchange
TOMIA
Tonga Cable Limited
Tonga Communications Corporation
Tourgee Consulting
Tower Research Capital
TPG Telecom
TRC
Trustpower
Turk Telekom International HU Kft.
Twitch
Twitter
TXO Systems
Ufinet
UIPRE (Union Internationale Presse Electronique)
UJET
Unified National Networks Sdn Bhd
Unitas Global
Uniti Leasing LLC
Universal Call
Universidad de La Sabana
University of Alberta
University of Auckland
University of Canterbury
University of Guam
University of Hawaii
University of Hawaii at Manoa
University of North Carolina-Greensboro
University of Passau
University of San Diego
University of San Francisco and University of Alaska Anchorage
University of Saskatchewan
University of Southern California
University of Washington
UPIX
Urbacon Data Centres
Urban Cascade
US DOD
US Matrix Telecommunications INC
USCYBERCOM
USG
UTECH Global Limited
Valve Corporation
Vantage Data Centers
Vapor IO
Vast Data Centers
Vayu Group
Verizon
Verizon Media
Verizon Partner Solutions
Versa Networks
Verscom
Vertiv
Viasat Inc.
Victaulic
Vidéotron
Viettel (Cambodia) Pte Ltd
Vigilent
Vigilent Europe Limited
VIRTUS Data Centres
Virtutel
Vocus Communications
Vodafone
Vodafone Business
Vodafone Carrier Services
Vodafone NZ
Vogel Telecom
Voxbone
Voxology Carrier Services, Inc.
VPLS
VTC Digicom
vXchnge
WAKANDAI Ventures
Washington State Department of Commerce
Wave Broadband
Wave Business Solutions
Webb Henderson
Wells Fargo
Westin Building Exchange
WFN Strategies, LLC
Whisl
Wholesail Networks
Windstream
WIOCC
Wirelink Telecom
Workonline Communications
Wtechlink Inc
Wyde Voice
WYLTK, Inc
XFORMA LLC
XKL LLC
XL Mission Critical
XSite Modular
Xtera, Inc.
YASU Global Partners Co., Ltd.
Yondr Group
Yonsei University
Yotta Infrastructure Solutions LLP
Zayo
ZenFi Networks
Zenlayer Inc
Zenzu
Zipwhip
Zoom Video
PTC'18 Call For Participation (CFP)
THE PTC'18 CALL FOR PARTICIPATION (CFP) IS NOW CLOSED TO ALL GENERAL AND ACADEMIC PROPOSALS.
PTC is accepting applications for the Yale M. Braunstein Student Prize Award through 1 September 2017.
Applications are now being accepted for PTC's 2018 YSP. The application deadline is 1 September 2017.